What is LustiGames?

Collection of free, entertaining flash games.
Do I have to register on LustiGames?

No, you don't have to register on LustiGames. It is only an option.


Why it worth to register on LustiGames?

There are some features on LustiGames which require registration. These features tipicaly those things which need to be known who is currently playing. Anyway there is no point in them. So if you registered LustiGames will save your scores and medals as well on those games which use the Mochi score system. Once more it offers to you the option to share how skillful you are with your friends, and compares your score with theirs. Later there may will be some achievements and ranks or there may will be some competiotions.
How can I register on LustiGames?

There was some changes in this method this year. There are two options to do this. First: you click the "Facebook login" link. If you are logged into your Facebook account and you give permission to the LustiGames application, the registration will be done. You can add additional informations on you profile page.
Second: you click the "Registration" link. Fill in the form and you are done. It is important if you want to connect your Facebook account to your LustiGames registration, first you have to register with your Facebook account.
I forgot my password. What should I do?

There is two options. If your LustiGames registration is connected to your Facebook account, there is no problem. You can log in with your Facebook account anytime. If not or you want to know your password, you simply write an e-mail to the e-mail address you can find on the bottom of every page from the e-mail address which you provided in the registration and you will receive a newly generated password in the reply. You should change the new password. There is no option to retrieve the current password!
What the Mochi score system is?

The Mochi score system is MochiMedia service for flash games. It allows that independently from websites on all over the world in a given flash game every single player can apply the same leaderboard. If you know it, you will recognize it. If you don't know it, here is two picture of it.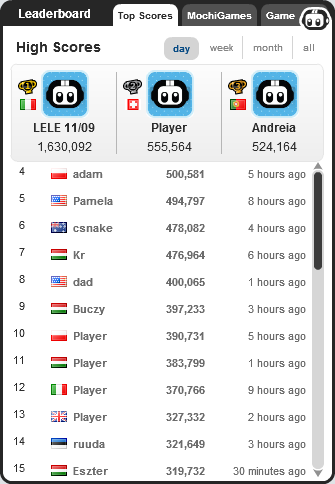 Which games use the Mochi score system?

This is what you have to find out on your own.